1 June, Basco, Batan Island
Linking the islands to the world
Text by Ma. Liza A. Solano
Photos by Michael A. Antigua
Modern communications technology is bringing the remote islands of Batanes closer to the mainland and even to the rest of the world.
On February 9, the province joined the Internet community with the opening of BatanesConnect in the capital, Basco, on Batan Island.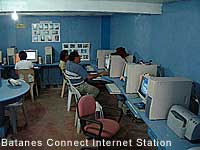 The Internet station, a project of the Ivatan Foundation for Development Communications, Inc. (IFDCI), is located at the public calling office on Abad street. It houses ten computer terminals. The station charges 50 Philippine pesos (US$1 at PhP50=$1) per hour or one peso per minute if the usage is not more than 30 minutes.
IFDCI also provides Internet access to offices at the provincial capitol and 16 other offices.
Executive director Demetrius "Demy" Narag says 10 more offices are in the waiting list, including the Basco Central School.
Connecting Batanes to the Internet was not easy. It took two years to implement the project, says Demy. It was difficult to find the right partners.
The foundation was initially working with Netopia Computer Technologies, a subsidiary of ePLDT which operates a chain of Internet cafés. The project finally took off with PH Domain Foundation, Philippine Long Distance Telephone Co. (PLDT) and Telesat, Inc., a PLDT subsidiary. PLDT provides the leased line from the satellite integrator, Telesat, to Ph Domain.
PH Domain Foundation offers free e-mail service to remote areas, namely Bontoc (Mountain Province, northern Luzon), Gumaca (Quezon, southern Luzon), Anda (Pangasinan, northern Luzon), Botolan (Zambales, central Luzon), and Iguig (Cagayan, northern Luzon), under its "Libreng Serbisyong E-mail" program. The group is the social outreach arm of dotPH, the administrator for the ".ph" or Philippine domains.
"But we told them at the onset that we wanted Internet surfing to be included," says Demy. He adds that PH Domain helped the foundation to look for the satellite integrator. "We're very lucky to work with them. We did not have the technical expertise needed to put this project together." PH Domain provides technical support for the project and trains network administrators of IFDCI.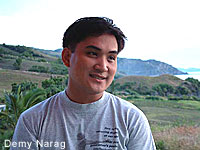 With Internet access now available in Batanes, the next step is to encourage more people to use the Internet, says Demy. "The Internet will not 'click' here until after two years." He observes that the same people come to the Internet Station. "We need to combat technophobia."
IFDCI offers free training, particularly to teachers and even farmers. "We let people who have not yet used the Internet to try it for free," he says. However, he notes that many of those who come to the Internet station surf the Web more for entertainment.
"We want to promote the Internet primarily for educational and information purposes," Demy says.
It did not take long before the kids discovered that Counter-Strike is installed in the computers. Demy says there are two rules at the Internet station. No surfing of pornographic sites. And kids are not allowed to play computer games. But it is difficult to enforce these rules.
"I talked to one of the members of the Sangguniang Bayan (municipal council) to author an ordinance to control Internet use in Batanes," says Demy, hoping that would solve the problem.
Asked if IFDCI will still operate BatanesConnect when for-profit Internet cafés begin to mushroom in Batanes, Demy says the project will continue if the services it provides are still relevant.
IFDCI, a non-stock, non-profit organization established in 1997, seeks to "develop an integrated information, education and communications program for Batanes with the aid of modern telecommunications and information technology." The foundation also operates several public calling stations in the province.
NOBODY CARED
"For a long, long time, nobody wanted to put up a telephone station here because there are only 15,000 people in Batanes and only 9,000 are expected to call them," says Demy. "And they won't call unless it is a matter of life or death."
"Nobody cared. It took IFDCI to approach these telephone companies and convince them to provide us with the service," he says. "Eventually, they realized that the business will thrive here." It was easier to convince other telephone firms after Pilipino Telephone Corp. agreed to open a public calling office in Basco in early 1997. Now, there are two PCOs in Basco, and one each in the towns of Uyugan, Ivana and Mahatao and in the islands of Itbayat and Sabtang.
Smart Communications, Inc. also launched Smart Link, its fixed-satellite service, last December.
IFDCI's next projects include hooking up more offices and islands to the Internet, develop an interactive Ivatan newspaper on the Web, and putting up a radio and a television station in Batanes.
Demy says IFDCI is partnering with the Manila Broadcasting Company in setting up the radio station. He says it will also conduct a feasibility study on the TV station.
"Everytime we bring in technology, we see to it that the effect is positive," Demy says. "We want to help preserve Ivatan culture through media."
"Batanes is a small place. It has a small population. Media (such as cable TV) has a powerful influence," he remarks. "We need an equally powerful tool to combat negative influences. I think putting up a radio and a TV station can help us do that."